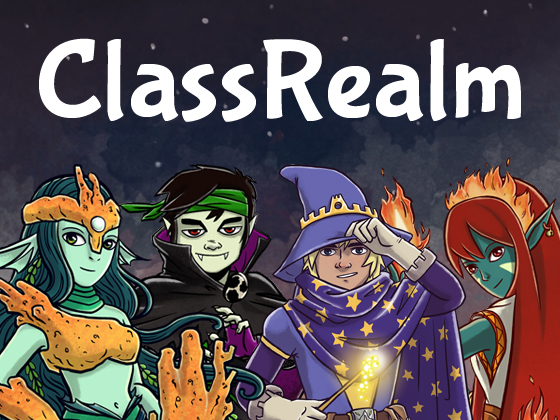 Since the online version of ClassRealm is still a ways off (though hopefully not too far), it's only fair that I share my current ClassRealm documents with the teachers who want to give it a try in their classroom. This fantastic system can be yours for the amazing price of $0.00! (Please add $0.00 for shipping) Yep. Free. Why not? Maybe ClassRealm is what your students need to make this school year the best one ever. I'd be a terrible person if I denied them of that. So along with the documents I'll try to give some tips on how best to use them.
Note: ClassRealm works best if you add your own flair. It may not work exactly the way it works in my classroom. You may have to do some experimenting to see what your students respond positively to.
Last Updated: January, 2014
– Added tips for running ClassRealm in your room
– ClassRealm files have been updated with a bit more flare.
– PDF versions of ClassRealm files have been added.
All ClassRealm Files (Zipped)
Docx (Word 2004+): CRDOCX2014

PDF: CRPDF2014

Tips: It's best to just type or write in your students first names in to the document I have provided, unless you know their last names well. You may find it hard to remember your new students full names, so just focusing on their first name makes things a bit easier. Write them in the first and last boxes (where it says "Name") preferably in alphabetical order or by seating arrangement. This way you won't have to trace their name all the way out from one side to their level when they get in to higher levels.
You may notice that the sheet only goes up to level 18. If a students or multiple students exceeds this level then you're going to have to renumber the document and print off a new one. Your students levels may range drastically, so always keep old XP sheets handy in case little Tommy is still stuck on level five while everyone else is in the thirties.
I usually go seven XP to a level. I tally the XP in the level box and then highlight the box when they reach the seven. This is why there is a blank space next to each number. If you don't feel this is sufficient room you can alter the document to your liking. Also feel free to make leveling up take more or less XP. Your class – your call.
Attach the XP Sheet to a clipboard and carry it EVERYWHERE. Students go nuts for XP, especially when they get some out of nowhere for a seemingly natural response or action. Find a good balance. Giving out too much XP maks it seems worthless, giving out too little makes it seem to be an impossible goal. Once again, you may have to fiddle with your system before you get it working perfectly.

Tips: Hopefully this one is kind of straight forward. Just have your students fill out all the sections and hold on to the paper. The "Full Title" section is the CR Moniker + Race + Enhancer. Example: Gorlog the Ninja Vampire or Smooty the Forest Elf.
Here's a list of races and enhancers that may be helpful: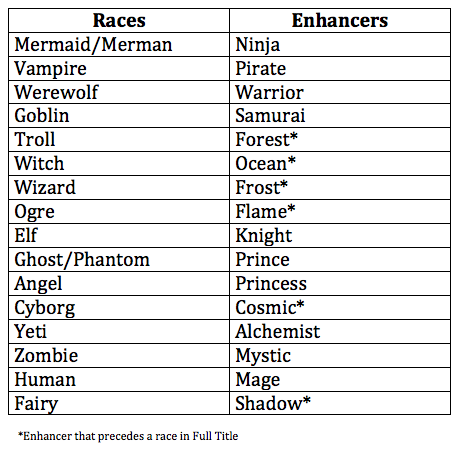 Strengths and weaknesses should be school and fantasy related. School ones can range from actual subjects to classroom behavior. Fantasy ones can be anything from an affinity for fire to a hatred of thunderstorms.
Example: Strength – Math and fire, Weakness – Shouting Out and thunderstorms.
The box to the right is for students to draw a picture of their character. Give them a little chunk of time to make them look nice and add some personal pizzaz.
Students should be able to update their level as they gain XP. You may have to remind them, but it's a nice way for students to see what they have already accomplished. Same goes for the achievements section, I'll get to that here in a bit.
When it comes to rewards I find it is better to give students a personal and collective goal to shoot for. Pitting students or genders against one another in over all competition can cause some unwanted tension between classmates. For this reason make the main goals a class wide reward, with personal goals also benefiting individual students while not hindering others. This way even your worst behaved, laziest student will contribute when he/she levels up. Adding to the group effort makes students push each other as well as themselves. When every level counts, every student counts. Feel free to change the rewards or the amount of levels needed to achieve said rewards.
Make sure students hold on to these papers and update them often.

Achievements are tricky. You want to make them accessible to all students, but also not a huge hassle to keep track of. The achievements I have included are the ones that work best with my class. Want to make ones that fit your class better? Do it! every Friday I write three riddles on the front board and students try to figure them out. This is how students earn the Puzzler achievement in my room. You may not do that, so you won't want to use the Puzzler achievement.
Attendance Achievement – The way the attendance sheet works is that a volunteer or assigned student will check each day to see who is present. A name only gets marked if they ARE NOT PRESENT. Remember, my achievement is based on weeks, so if someone is gone more than one day in the week you don't have to mark their name twice. Figuring out how many full weeks a student has been around is as easy as counting the number of blank boxes next to their name.
Behavior Achievement – My (extremely) simple sheet for behavior monitoring is simply to keep track of how students do on a week to week basis. The challenge is for students to make it the whole week without getting in trouble. If they do get in trouble you can mark out their box for that week. How do you know how many weeks a certain student didn't get in trouble? Once again, count up all the blank spaces.
Level Achievement –  Just look up their current level and see if they have hit the mark. Easy!
Reading Achievement – After a student is done reading a book they have to fill out one of the ClassRealm Book Overview sheets. It's pretty straight forward and you should get a good sense of if they have actually read the book. I usually give 2 XP per Book Overview turned in.
Writing Achievement – Make sure you are clear on how much you want students to write when it comes to this achievement. This was by far the most popular achievement I dealt with last year. You don't HAVE to read every single story/essay turned in to you, but make sure to give them a once over to make sure students aren't taking you for a ride.
Tips: Random Encounter Friday is a small chunk of my Friday when students "battle" to win XP by answering grade level questions. It's a great way to review! The main thing to remember is that REF is optional. Don't force your students to the front of the class to be humiliated because they are a terrible speller. Here's how it normally goes down.
1. Each student who wants to participate writes their name on small piece of paper and puts it in a hat/bowl
2. I draw out two names and those students come to the front of the room
3. I have 5 to 10 pre-made questions ready for battle. I tell them the subject. Example: Math.
4. For math questions I write the problem on the board while the competing students are turned away.
5. I que up some epic battle music (Usually Pokemon or Zelda). Once the students hear the music they turn and work out the problem on the board.
6. The first student to get done raises both hands. I stop the music and check their answer. If correct they gain 3 XP. If wrong then the other student has roughly 30 seconds to answer the question. If they get it wrong then I turn to the class for an answer.
7. Correct answer for participating student – 3 XP, Wrong answer for participating student – 1 XP, Correct answer from student in audience – 2 XP
All students who come up get at least one point. This makes them feel good even if they fail. Most kids love the competition and thrive under the pressure. Once drawn, a students name goes in the trash. The best types of questions are math equations, spelling (repeat twice and have them spell on the board) and re-order questions (Ex: Put these planets in order from biggest to smallest).

– The way you display all your data is up to you. You can make a web page, though that can be painstakingly hard to keep up with. Bulletin boards are nice, but once again someone needs to update it pretty much all the time. Just make sure you and your students have all their info recorded somewhere.
– This version of ClassRealm is very bare bones and not very pretty. Make it your own.
– ClassRealm has never been tested outside of my own classroom. You are the first to try it!
– ClassRealm's online interface is on it's way!
– ClassRealm MAY add to your work load and if it's stressing you out too much you should dial it back.
– I will try my best to respond to specific questions about the system.
– I love to hear what has worked and what has failed. Please let me know!
Sorry if there are any spelling or grammatical errors on this page or in the documents provided. I look forward to hearing form everyone who uses ClassRealm. I wish you all the best!
– Ben Bertoli, 6th Grade Teacher and ClassRealm creator