Ah. Smell that? It's the smell of a new school year wafting on the summer breeze. Now that I'm done making you guess smells I feel it's only fair to give you a new ClassRealm update. As I am a teacher first and blogger second I will try my darndest to update you fine folks who read this blog (all seven of you) on a regular basis. As I mentioned, a new school year is upon us and with new school years come new students. As a young teacher without many years of experience I haven't dealt with every kind of student yet, but let me tell you – this year's class is WAY different from last year's.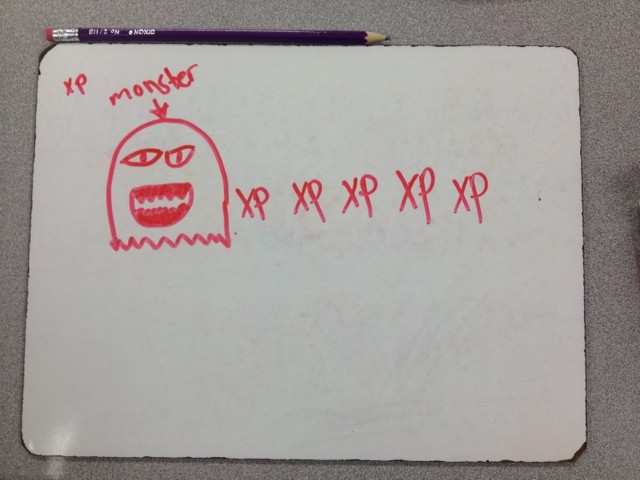 Here's the good part. They love ClassRealm. I introduced them to the system during the second week of school and they are having a blast. The one aspect that really seems to be driving their frenzy for XP and achievements is the new team mentality I have instilled in my paper system. Last year ts was every student's dream to beat the others and become top dog. This year it's all about reaching the goal together and sharing in the journey. Student's literally applaud others for gaining levels and earning achievements. Fantastic stuff!
The two students I have dubbed "Level Trackers" keep a close eye on the combined level of the classroom and are constantly updating the other students on their advancements. Though XP was a big deal last year, it has taken an even more commanding lead with this particular class. Achievements are more like surprises this time around, which is actually a nice change.
Last year my students latched on to the writing achievement and piled on story after story. I was sure this would be the case again, but the achievement of choice this year appears to be the "Book Worm". Students are reading constantly! It's wonderful. Today one of my students asked if she could take home some of the ClassRealm Book Overview sheets to fill out over the holiday weekend and I told her to pick some up on her way out. But she couldn't. Because the stack I had left there had been used up. Best. Problem. Ever.
Check back soon for more ClassRealm updates!
Bertoli out.